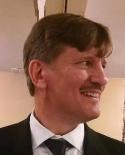 Dan McNeill, Ph.D., is a New Jersey licensed psychologist. He has worked as a psychotherapist and neuropsychologist for over 15 years with experience in working with survivors of traumatic brain injury and their families, performing supportive psychotherapy, neuropsychological and learning evaluations, and practicing mind-body healing techniques. Dr. McNeill's interest in meditation and spiritual development has been supported by his own personal practice of meditation, self-hypnosis, martial arts training, and mind-body healing. He has participated in continuing professional education in mindfulness and mindfulness psychotherapy.

Dr. McNeill attended Drew University and then completed a 1-year Pre-professional Traineeship with the Devereux Foundation in Devon Pennsylvania before continuing on to earn his PhD from the California School of Professional Psychology in Fresno, California. He completed his Doctoral internship at the Rusk Institute of Rehabilitation Medicine at New York University Medical Center in New York City and performed Post-Doctoral research work at NYUs Research and Training Center on Head Trauma and Stroke.

Dr. McNeill has published articles in neuropsychology, family dynamics, play therapy, and legal rights for those with mental illness and a book chapter in frontal brain lobe functioning and violence.